53.2km out of 1972km so far
Somehow I managed to sleep for 10 hours and it took me for ever to have breakfast and pack my stuff. After a stop at the nearby information office and a chat with a couple at the nearby bench, it was already past noon when I started pushing my bike on the road. I wasn't feeling it much today and despite my day off, I was struggling to push my bike. It felt a bit like a Monday morning in the office, after a good weekend of fun stuff. It happens every now and then.
I had at least another 20km riding in the avenue of the Giants, going through equally amazing scenery I've been for the past couple of days. Big trees all around me, with the sky barely visible from within the forest's canopy. It was a bit chilly as every morning in the forest, so I was looking forward to reach some openings, get the sun and warm up. Surprisingly when this happened, it quickly got really hot. I woke up at 8c degrees and by lunch time it was all the way up to 32c.
I stopped at Myers Flat to grab a sandwich for lunch. A 200 population town, most of them grown up hippies, with 2 shops and a hotel. The lady at the shop is going to Maui tomorrow and she was really excited about it.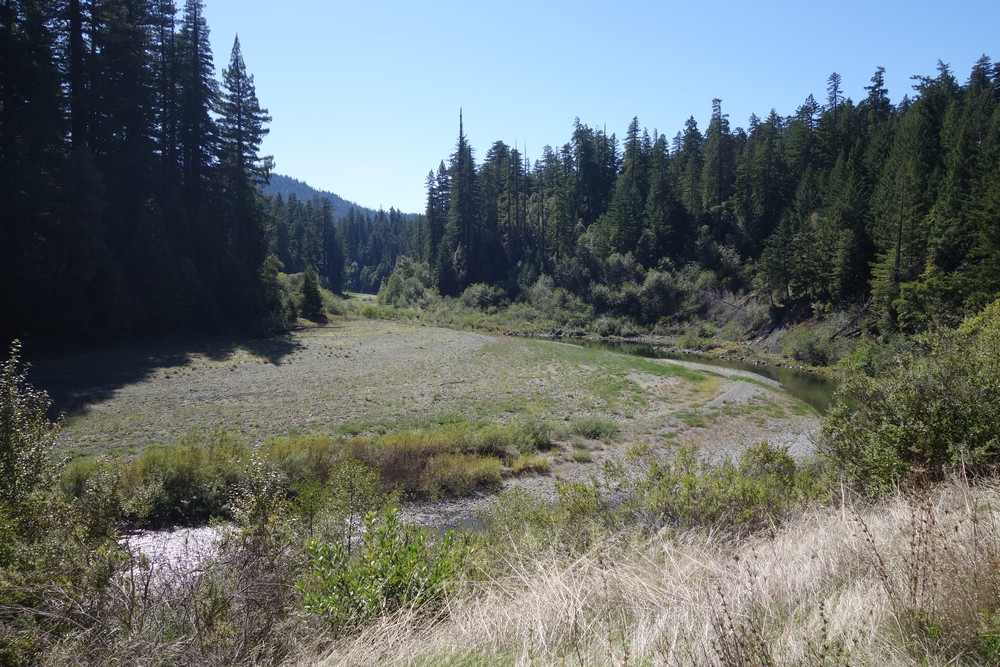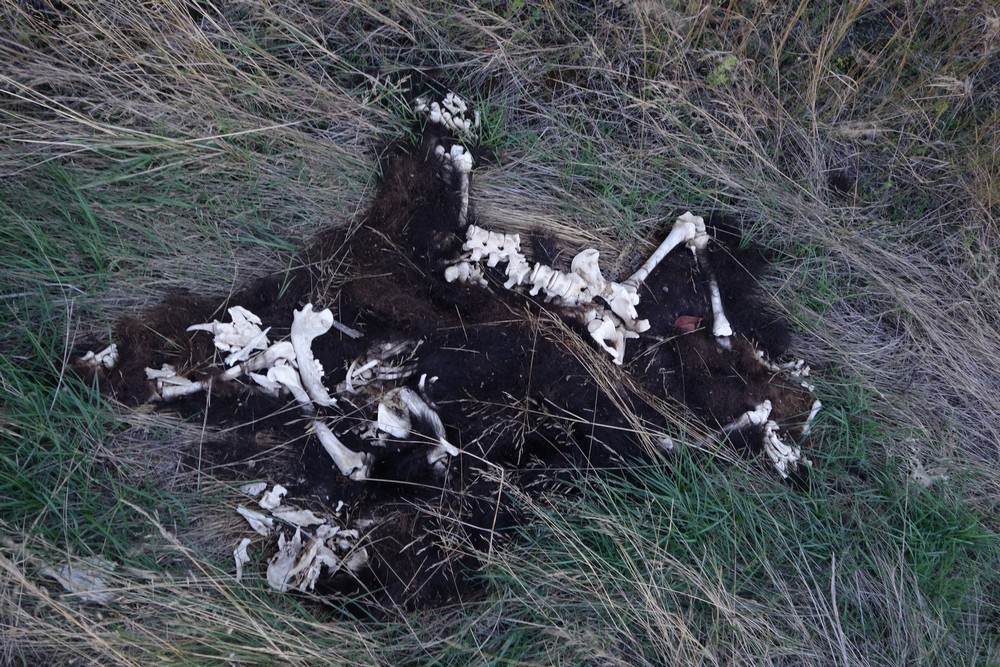 Most of the ride continued along the river and soon enough I was back on 101. Just a couple of hours later I stopped for ice cream and supplies at Garberville. A very nice town of 2000 population, which has a main street with the typical old American store fronts. On the back road there is a square and there happened to be a public event at the time. A country music band was playing and there was food and drinks served to the public. The town is crowded with hippies and the smell of patchouli and other herb is dominant in the air. I wouldn't mind spending a day there, but I wanted to move on. Tomorrow there is a big hill ahead that everyone has been talking about.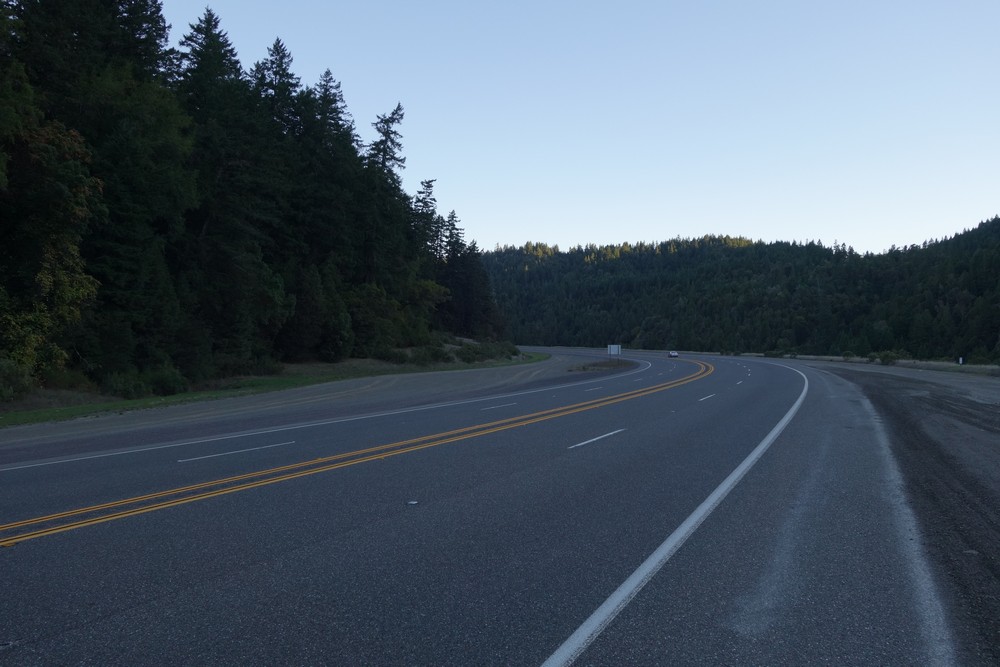 15km further south and I entered Richardson Grove SP state park. A nice location and I managed to find a quite spot to put my tent. In the campground I had a chat with the park ranger who happened to collect the money from the fee box. I noticed his car had a shotgun and a semi-automatic rifle, hanging vertical in the middle of the two front seats.
– Officer, I see you carry big guns with you.
– Son these are the tools of my job.
– And what do you hunt with those if you don't mind me asking?
– Both four-legged and two legged creatures son.
Right after I pitched my tent, I met Charlie who I had met a couple of times in the last week. He had his tent together with Eric a little further up the park. I went by to have dinner with them and help them with their cheap whiskey.
As of tonight, I am right in the middle of my trip. I've been on the road for exactly one month and I have a flight to catch in a month from now. After spending 5 weeks on the road, I am fully emerged into the lifestyle of cycle touring and everything that is part of it has become second nature in my day to day life. I barely know what day it is, my clothes have faded a touch, they may even smell a bit and I've become part of a group of people slowly traveling south on two wheels. It's a strange lifestyle, probably not for everybody, as I have to compromise many of the luxuries I take for granted at home. All this time I live out of bags that I have to pack and unpack daily. I have to carry everything I need including water and food. Every day I wake up and sleep in a different place, I have to use public washrooms which at times are the only indoor space available for warmth and privacy.
But then again, all these unforgettable landscapes that I used to see in my school books and documentaries, have become my living room and the place where spend in full my days and nights. I get to fill my lungs with the fresh air and the smells of forests and the ocean. Very often I sleep in absolute silence under a star lit sky, which is definitely a rare luxury in a city. Each day is a completely different adventure, with the unknown of what I will see and encounter. I am putting my self in situations that I wouldn't never do otherwise and I meet people of all kind, with interesting stories to share.
So despite problems and inconveniences I face every now and then, I keep cycling!