87km out of 2656km so far
I woke up earlier than normal, in an attempt to make use of as much daylight as possible, now that the days are getting shorter. But of course there is always something to delay my start. I can't complain though, as Bill the biker, offered to cook breakfast for me and another cyclist. He is cruising the coast with his dog Miss Bella, on a Harley pulling a small camper's trailer that can carry everything but a sink. He mentioned that his grandmother was Greek, so it made it easier to bond.
I left the campground at around 10am and continued on the coastal road for a bit.
It didn't take long for the route to take me a few kilometers inland, so I lost the view of the ocean. I spent a good couple of hours cycling next to vast farmlands. Despite what I wrote yesterday about the smaller, organic and more varied farms, today it was the exact opposite. Fascinating to see how much plastic is used in farming. An entire valley covered in black film. Some signs on the way warm for toxic pesticides. I am assuming they are pumping chemicals into the ground to make it fertile again. Just a bit worrying that the soil is considered toxic, when it's ok to eat what comes out of it.
After the farming back roads, I moved to Moss Landing, a small coastal town next to the end of Elkhorn river. I stopped by the state park, hoping to see some condors. Bill mentioned yesterday, I may see some in the area. Unfortunately I didn't have any luck. It was hot and I was getting hungry, so I stopped for dinner at a small restaurant by the power plant, for some calamari.
A few kilometers down the road, I joined a bike path that took me all the way to Monterey, my next destination. At first it went through some not so interesting areas, but then it moved closer to the coast and the big dunes of the Sand City. The aloe plants all around me were like a colorful carpet going from green, to red, to black. A surfer kid I was talking with earlier, mentioned that they are good to make small wounds heal faster.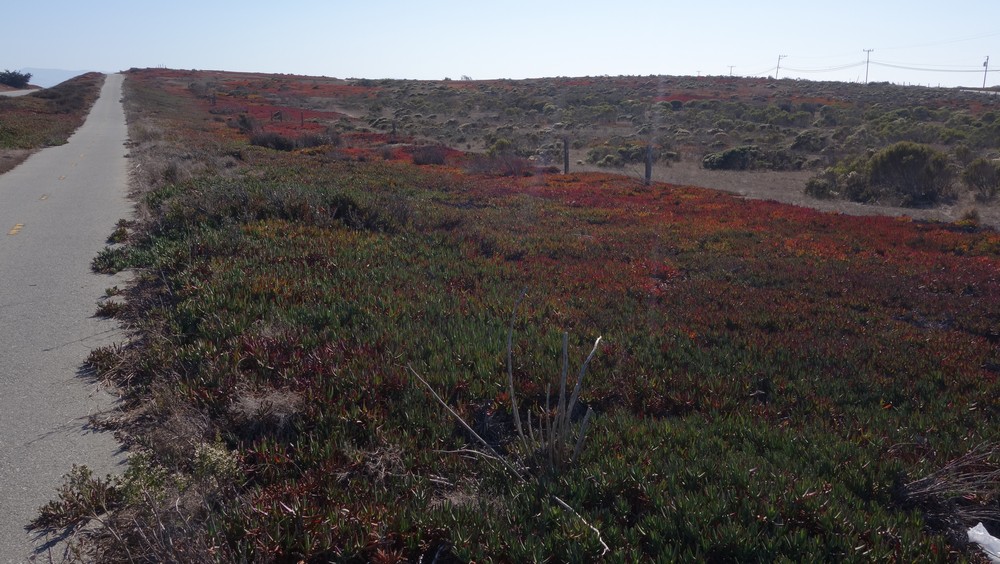 I got to Monterey and checked in at the hostel of the town. Tomorrow I am heading to Big Sur, which is a remote area stretching for more than 100km. I needed some food supplies and prepared a few things for the next couple of days. After a shower, I went back out to have a closer look to the town and have some dinner. The town has an old part right by the water, with the old factories where they used to tin fish. A really nice town, but at parts if felt very touristic. I guess I am a tourist, so that's ok.