100km of 840km so far
Once again, even if I woke up early I didn't manage to hit the road as early as I wanted to. For a good reason though, as Whitney and Jamie offered me some breakfast, which of course I couldn't turn down knowing that I had a long distance to cover. They were planning to do a few hikes around the area and possibly go surfing at the beach nearby.
I left the site and I still had to cover the 10km back to Astoria before heading further east. My plan was to be in Portland by Sunday to meet some friends, so I had to spread the distance over two day. I cycled over the small bridge again and this time I wondered around Astoria a little bit, looking for lunch supplies.
I had about 80km ahead of me and it was already noon, so I made sure I had everything I needed for the day to avoid any stops on the way. I started heading east and took a bike path by the coast that run for several kilometers along the old port, the marine museum and some other old buildings. Along the seawall path, I started hearing some weird sounds and I was certain they were coming from seal. They were indeed seals, but not just a few, but hundreds on top of some old pier. I was pretty stunned, as I had never seen so many of them in the wild. Someone told me they were all males coming each year from California.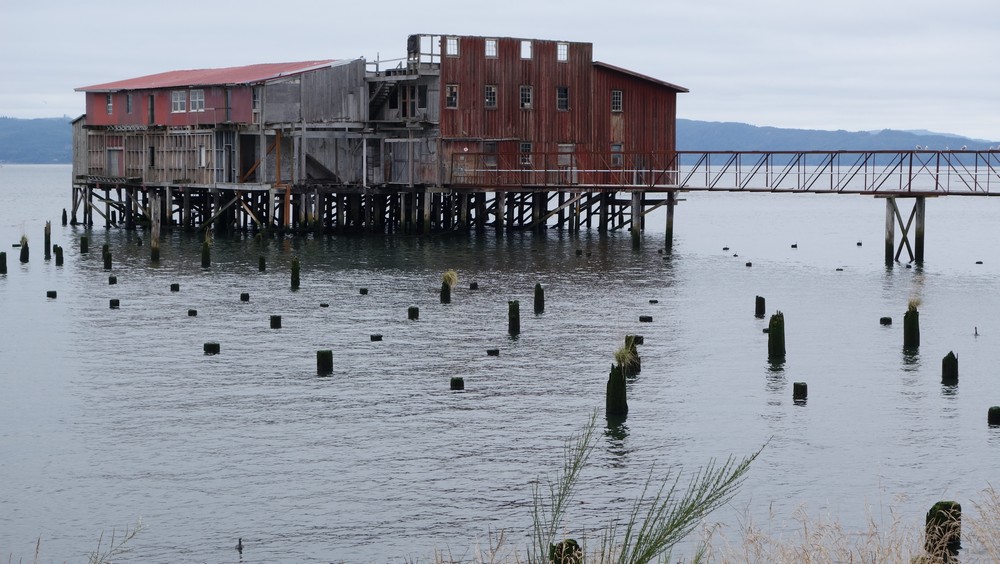 The rest of the ride didn't have anything spectacular in particular. It went through some forests and farmlands. I was prepared for a solid ride, so I had loaded my mp3 player with an audiobook to keep my mind busy along the way. The ride went actually pretty fast. On the way I stopped at a fish hatchery for my lunch break. It was exactly what I was looking for. A quiet place, with a few benches, a washroom and running water to refill my water bottles. I had my deli sandwich and couldn't resist a short power nap. As I woke up, I noticed that the clouds started breaking up and within minutes the sun finally came out again. Happy days!
I went off again for the last section of the ride to Longview where I was planning to spend the night. The road was mostly in land, going over some fairly steep uphills, followed by fast downhill runs.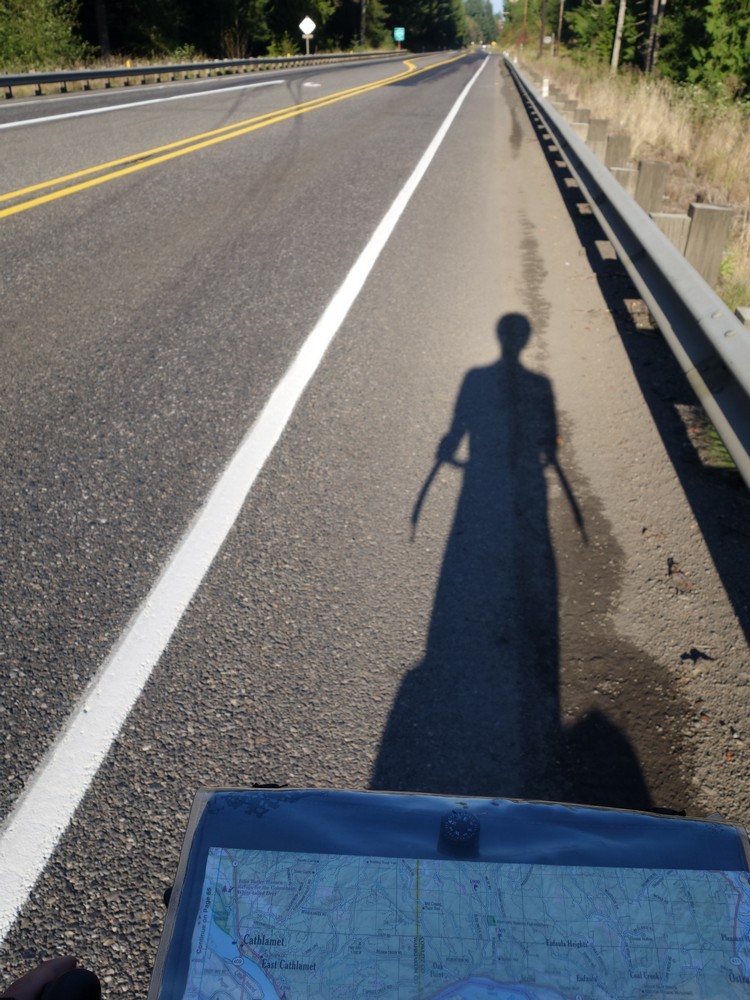 At some point as the road turned right going down the hill, Longview suddenly appeared at the distance, across Columbia river. Even though I was looking forward to get there, I was instantly disappointed as I wasn't expecting a heavy industrial city. It seems like all the trees from the cut down forests I was seeing over the last few days, were taken there to be processed. The view of the city across the river, was nothing more than huge steaming factories, huge stacks of logs and trucks going back and forth. I was rather tired after 100km and no day off since Seattle, so I went in regardless. The crossing of the river, was once again over another massive bridge.
My map indicated a campsite right off the bridge, which made me laugh after seeing this whole area. There were barely any people walking around the streets, other than trucks. At some point I did see an RV park, but it looked more like a post-apocalyptic vehicle based neighborhood, rather than a place where anyone would want to pitch a tent. I asked around a couple of people and there was definitely not a campground in the area. I ended up going to a motel, which wasn't such a bad deal for a change.
After a quick shower,  I went out to a nearby restaurant for some dinner and a couple of local beers. After all it's Saturday night! Cheers…