59.7km out of 1217km so far
I woke up, looked outside the window and saw no rain or storm that the forecast was talking about. Maybe sleeping in a campsite wouldn't have been as bad after all. I had a bit of breakfast in the room, packed my stuff and run down to the reception to take advantage of their breakfast to pack as much calories as possible. The lovely lady at the front desk started chatting with me, asking about the trip. It didn't take long for the conversation to turn into a religious preach and that I will find god on my trip. I am not religious at all, but I didn't mind the conversation, neither I told her I wasn't into that. And of course, I definitely didn't mind all the fruit and muffins she started giving me for the road. God bless her.
I briefly went to the nearby beach to check the scenery and then continued south. The priority of the day was a bike shop as my rear break was not working any more. Lincton City doesn't have a bike shop, but Newport 40km down the road does, so I was just hoping that the front break will last long enough. The road run next to the coast for most of the day and I ended up stopping on every other turn to take photos of the amazing scenery. The ODOT (Oregon Department of Transportation) map and the cycling signs on the side of the road took me off highway 101 to some quieter and more scenic detours. The day was full of vast sandy beaches, forests, rocky cliffs and crashing oceanic waves.
By the time I got to Newport, the weather was just perfect. Sunny, warm and I was wondering what happened with that storm everyone was talking about in the last couple of days. I wasn't complaining, as I was happy to look for a nice campground to spend the night. I got into town and located the bike shop. I thought I needed new disk brake pads, but after the mechanic had a closer look, he managed to re-adjust them and the breaks worked like new again. Newport-Bike is the only shop within 50 miles both sides and they know how to look after touring cyclists. As long as you spend some money in there, you are free to use their lounge with wifi, laundry and showers. I didn't need any of them at the time, so I headed out to look for a place to have lunch and access the internet. During the  break I had a short chat with another cyclist who was coming from the south and he gave me some information for spots to check out in California. Being on the coast, I meet cyclists all the time. In fact that guy had already heard of me, from a Canadian couple I met in Astoria last week. Small world on two wheels.
The beach in Newport was just amazing, especially in such a gorgeous weather. Looking at all these people enjoying themselves in the sun, I started thinking that maybe I should cut the day short and do the same, rather than trying to reach Waldport 20km further south. I've been on the road for all these days and yet I haven't stayed in one place for long enough to enjoy the scenery. The campground in Newport is at the South Beach, just across the bridge and it has hikers-bikers spots for $6. It's right by the beach, but well protected within pine trees.
I headed to the hikers-bikers section where I met a drifter as Frank called him self. He has been traveling for 14 years all around the continent, with just a small backpack and a daily budget of $10. He doesn't have a place called home. He said that after you get into this way of living, you can't go back to a normal lifestyle and you just have to keep moving wherever the wind takes you.
A little bit later a cyclist came to set a tent next to mine. I had met him before in the bike shop and we ended up spending the evening together. Garry is from Ireland, he has been on the road for 4 months and has come all the way from New York. He is a photographer and he is using this trip for a personal project. You can see his work here http://www.garryloughlin.com/
I put my tent up, had a shower and headed to the beach on my own. I had to cycle about a kilometer on a paved trail and walk over long sand dunes to see the water. The beach was as long as the eye could see and it made people looking like ants. Even though the campground has about 300 spots, all full for the weekend, it seemed almost empty and I was happy to spend some time by my self there. At the horizon I could see huge dark clouds approaching as the sun was setting. The wind was coming from that direction and I could see the storm was eventually coming in, but at that point I didn't care and I was ready to embrace it. No text or photos can describe what it is like to be in such a place with these conditions.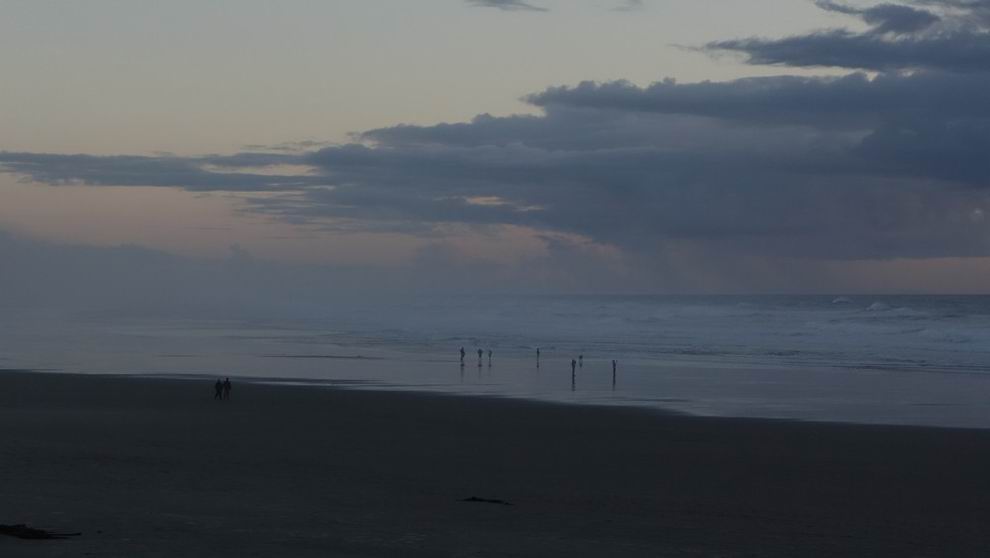 Just as it was getting dark, I headed off to my tent to make something for dinner. I then woke up Garry from his afternoon nap and we both headed to the nearby brewery for a couple of pints. The barman welcomed us with a sampler of ORgasmic (OR as in Oregon). After that I asked for a another 4 samplers so I could try out a range of the beers they were making there. One of them was called Bear Beer as the yeast they use, initially came from someone's beard. It was tasty! After our drinks and conversation with some locals, we headed back to our to sleep and welcome the coming storm.