80km of 360 so far
I woke up in the cosy sleepybag, glad it didn't rain overnight. Only just as I was preparing breakfast, a light morning shower came and left within half an hour. I was back on the road by 9:30 and the descent from that massive hill was a good way to fully wake up. I cought the last 10km of the Centennial trail to Arlington, where I stopped for my second breakfast. I took my time in the cafe, charging my batteries while running a few internet errands. Another two cyclists happened to be behind me and we had a short exchange of experiences. They came from the north as well, but they did a loop around Mt.Baker and the other mountains. They were actually the first I met on this trip and I am sure I'll get to meet many more down the coast.
I filled up my water-bottles, drew my route on the map and there I was on the road again. The ride took me through some nice landscapes, a small recreational airport and many hills that started getting steeper and steeper.
I only had to cover around 60km to Seattle so I wasn't in a rush. On the way I came accross a nice old village, converted into a tourist trap. Since it was already lunch time and I happen to be a tourist my self, I decided to stop for a bite. By then the sun was fully out and it was rather enjoyable to be out.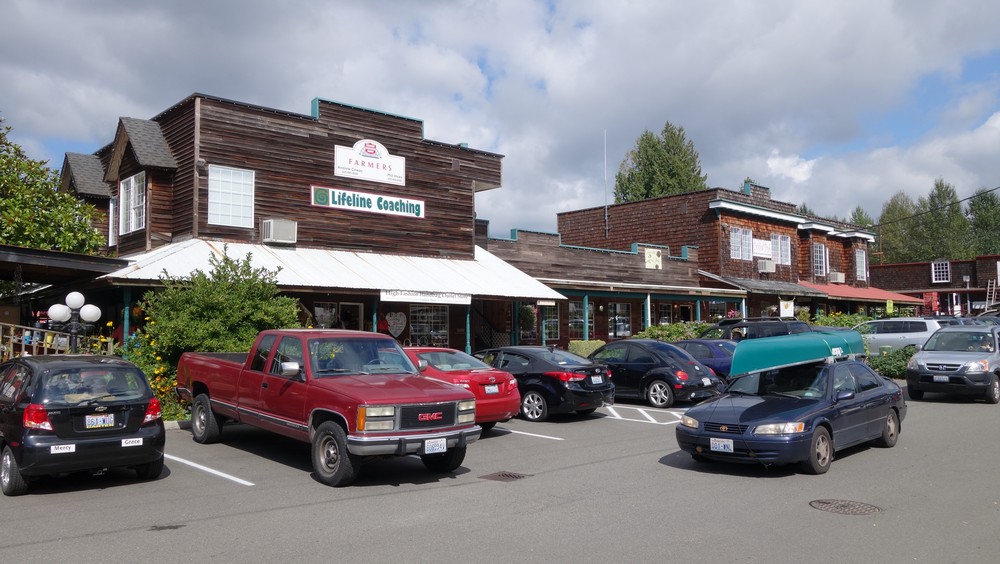 The route right after that, took me through some typical north American commercial areas, with block sized retail stores, shopping malls, parking lots and fast food depots. It was when I hit Washington lake that the nice part began again. There is a bike path that run all around the perimeter and can even take you all the way to downtown Seattle.
I have a couple of friends in Seattle, so I headed a bit further south to Beacon hill to meet one of them who had kindly offered to host me for a few days. The timing wasn't great, as both friends just bought new houses and they had just moved in the weekend before, so I am very grateful that they accepted me, despite their place wasn't ready yet for guests. Karen is a photographer working for Perl Jam, she has a black cat and together with her partner they've been working on renovating their new home over the past half a year.
I got to their place at around 5pm and after a quick snack and a shower, we went to the supermarket for some supplies. In return of their favor, I cooked some Greek briam for them. I was really looking forward for some home made food, that looked a little more civilized than the freeze dried food and sandwitches I had the past couple of days. After dinner, some beers and a movie, I collapsed in bed until almost noon next day.