0km out of 2407km so far
Today is a no bike day. I locked it at Kirsty's place and I went on my day without it for a change. We had breakfast, Robb left for work and I spent the morning washing everything I carry on the bike. It's nice to know I will have a fresh start when I leave the city.
At around noon I left the house on foot to explore the city. I've been in San Fransisco before, so I kind of knew my way around. I started making my way to the north and I stopped by the cable car museum, which is the actual control center for the famous public transport of the city. In case you don't know, at that building there are some huge motors, pulling the underground cables all around the city. The cars grab the moving cable underneath them so they can move and release it when they want to stop. You can hear the moving cables under the tarmac, even if there is no train near by.
Next stop was North Beach square, which is an Italian neighborhood. I think the last time I had a pizza was back in Vancouver, so I have been thinking about one for a long time. This area was the right place for a slice or two.
I continued walking south through Chinatown, which is a very busy area full of stores selling all kind of weird goods.
I got to Market street and visited the Asian Art museum, which had exhibits from the 7 different regions, since the ancient times. It also had a small contemporary section, with western work influenced by Asian culture.
The museum is at the Civic center, opposite the town hall. In the whole plaza, there was an extreme sports event taking place. They've set up huge skateboard and BMX ramps for the crazy dudes to jump off. I believe there were many big names there, as I saw kids asking for autographs all the time.
I continued wondering around the whole area, all the way to Fillmore, looking at stores, galleries and cafes.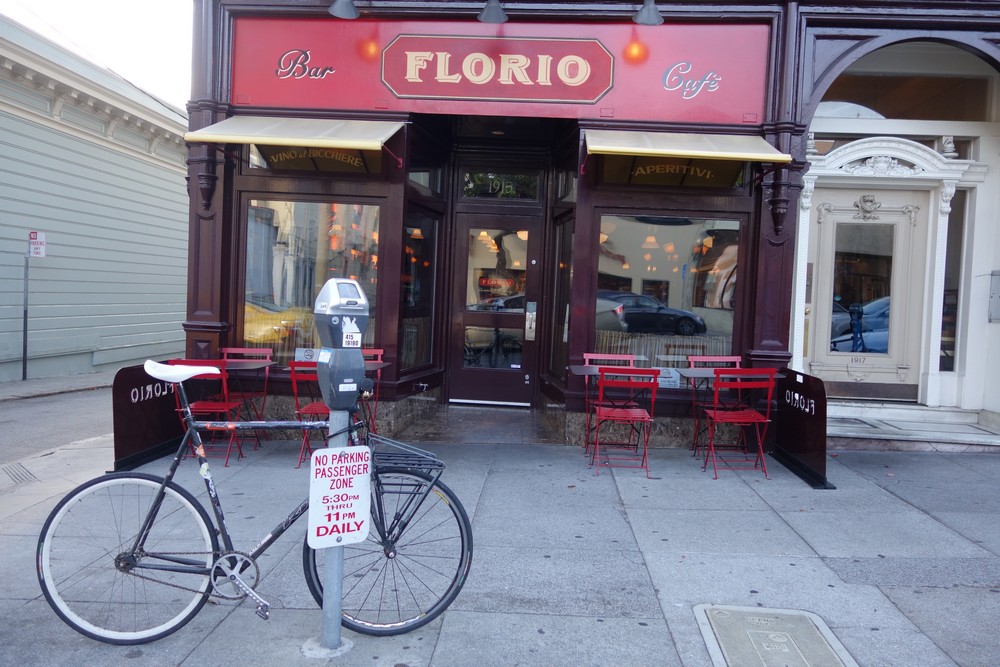 In the late afternoon, mist covered the west side of the city and it got a little cold. I started making my way back home. I stopped by the supermarket for bike supplies and ingredients for tonight's dinner as promised.
I used to work with Kirsty in London many years ago. She moved to San Fransisco with Robb 4 years ago, when he started working for Pixar as an animator.